Why today is the best time to book your child's eye test.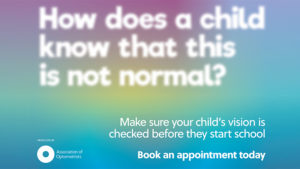 With the summer holidays in full swing and the tropical weather we are witnessing at present, booking your child in for their eye examination is probably not at the top of the "to do" list. However, now is the perfect time to book that appointment and get your little one seeing as they should before the new term starts.
Good vision is essential in childhood development and regular eye examinations are the key to good vision. Good eyesight helps children reach their full potential academically and socially.
"20% of children have an

undiagnosed sight condition"
A child may not realise if their vision is not clear – they assume the way they see is normal. Clinical research estimates that 20% of children have an undiagnosed sight condition. Therefore, regular eye examinations are advised for all children under the age of 16 at least once a year. Children should have their first eye examination by the age of four, sooner if any problems are suspected. The earlier a problem is detected, the more effectively it can be treated.
"The earlier a problem is detected, the more effectively it can be treated"
Could my child have an eye problem?
Common findings in children that have problems with their sight include:
• One eye turns in, out, up or down
• Complains of frequent headaches
• Frequently rubs eyes or blinks a lot
• Screws up eyes when reading or watching television
• Avoids reading, writing or drawing
• Has difficulty catching a ball
• Fails to make expected progress at school
• Develops behavioural or concentration problems at school
What's involved in a sight test?
It doesn't matter if your child is too young to talk or read a letter chart, as we use a range of techniques and modern equipment to detect visual problems at any age.
Such equipment used is a computerised test chart which allows us to use pictures, numbers and shapes as well as letters to check the child's vision.
In addition to checking your child's vision, we test their 3D vision development, eye muscles and focussing as well as a thorough eye health assessment.
The NHS provide free eye tests for all children under 16 and those under 19 and in full-time education. If a child is found to need spectacles, a contribution is provided by the NHS.
More information about children's eyecare can be found here
To book your free eye examination contact us today.