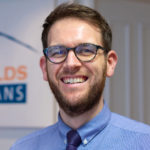 Marcus was born in Cornwall and raised in Helston. In 2018 Marcus became a director of Reynolds Opticians in Penzance where he practices full time. He has been an active Local Optical committee member since 2013 and has experience working in multiple, independent and hospital optometric practice. Working as a director for Primary Eyecare Cornwall Ltd he has assisted in the successful commissioning of enhanced optometric community services- such as post operative cataract assessment, glaucoma referral refinement and ocular hypertension monitoring in Cornwall.
Marcus is WOPEC accredited to perform Minor Eye Condition Services (MECS), Glaucoma referral refinement, Ocular Hypertension monitoring and Post-Operative Cataract assessments.  Marcus holds a post graduate professional certificate in glaucoma.  Marcus has special interests in glaucoma, dry eye and myopia (short-sight) control.
In his spare time he can be found looking after his chickens and pigs at home on the smallholding.