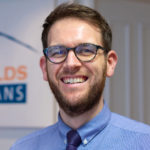 Marcus was born in Cornwall and raised in Helston. He is mainly based at the Penzance practice, but does work across both practices. On his day off from Reynolds & Slater Opticians, he holds the position of Specialist Optometrist at Treliske Hospital as part of the glaucoma monitoring team. He is one of a handful of Optometrists in Cornwall to hold the College of Optometrists Diploma in Independent Prescribing. This enables him to prescribe medication for a wide range of ocular conditions from both the Falmouth and Penzance practices.
Marcus is accredited to perform Minor Eye Condition Services (MECS), glaucoma referral refinement, ocular hypertension monitoring and post-operative cataract assessments. His special interests are in glaucoma, dry eye and myopia (short-sight) control.
Marcus has assisted in the successful commissioning of enhanced optometric community services within Cornwall – including post operative cataract assessment, glaucoma referral refinement and ocular hypertension monitoring. In previous lives, he has worked in multiple, independent and hospital settings as both an optometrist and as a dispensing optician, despite initially setting out to study marine biology in his late teens! He is humbled to have been previously nominated for an award as Newly Qualified Optometrist of the Year and been awarded the Head of School prize when graduating with a first class degree from Cardiff University.
In his spare time he can be found looking after his chickens and pigs at his home on his smallholding near Falmouth.