Since the eco-crisis coming greatly into focus over the past few years, the health of our planet has become a priority and many have been changing their consumer habits to promote a more sustainable lifestyle and reduce the amount of waste produced.
At Reynolds & Slater opticians, we stock a range of sustainable glasses produced with the aim to make the industry more environmentally friendly. But why should glasses be sustainable?
Book an Appointment With Us Today
Traditional Materials Do Not Decompose
The materials used in glasses production often do not decompose or would take millions of years to do so. For example, according to Popular Science, nearly every form of plastic ever produced still exists in some form and never truly decomposes.
It has also been found by National Geographic that only 9% of the nine billion tonnes of plastic the world has ever produced has been recycled.
Lenses are traditionally made using glass, and this material also does not decompose, only resulting in devitrification, a process that causes the outer layer of glass to crystallize and flake off.
By using alternatives to these materials such as recycled plastic and types of acetate, it provides a biodegradable alternative to the harm these materials cause in the environment. At Reynolds and Slater opticians we stock a range of brands including ECO Ocean by MODA, where they work with local fishermen who collect used plastic fishing nets, ropes, and trawls from the ocean, turning the waste into eyeglasses.
Are Glasses Better Than Contact Lenses Environmentally?
With over 750 million contact lenses ending up in the landfill or being flushed down the toilet every year according to Optical Express, wearing contact lenses is having a damaging effect on the environment.
With only 9% of contact lens users recycling their lenses, it deposits a large number of microplastics into the sea. Many users also have a pair of glasses alongside their contact lenses, increasing the overall amount of waste when their prescription changes.
How To Dispose of Old Glasses Sustainably
While many simply throw away their old glasses, it is possible to send them to a recycling centre where they can be given a new life as recycled frames or transformed into something new.
It is also possible to keep your old frames and just replace the lenses, sending the old lenses to be recycled.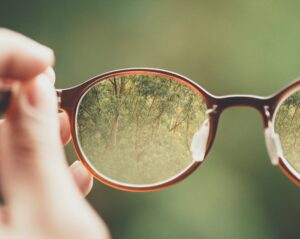 Explore the Range of Sustainable Glasses
At Reynolds and Slater opticians we stock a range of brands such as ECO by MODA, Coral Eyewear, and Botaniq.
All of these brands focus on both sustainability and fashion, keeping in style and helping to conserve the environment. Book an appointment with us today to discuss your options.